Human Trafficking and the Fight for our Children's Innocence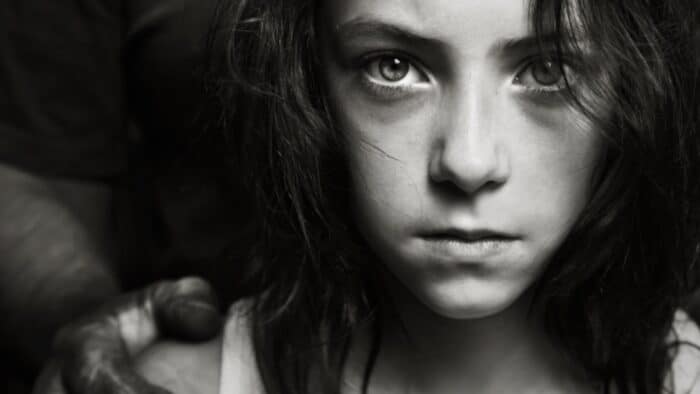 What is Human Trafficking?
The Department of Homeland Security defines human trafficking as the use of force, fraud, or coercion to obtain some type of labor or commercial sex act. Human trafficking can happen to anyone. It is blind to race, nationality, age, or gender. An estimated 71% of trafficked and/or enslaved people are women and girls, while men and boys account for 29%. Human trafficking occurs all around us and in our very own backyards. It is a serious and pervasive crime and a severe violation of human rights and dignity.
Most countries of the world consider human trafficking transnational organized crime. It is modern-day slavery and entails the trade of humans for the purpose of forced labor, sexual slavery, or commercial sexual exploitation for the trafficker or others. It can include providing a "spouse" for forced marriage or even the involuntary harvesting of human organs or tissues to sell on the black market. It can also include surrogacy and ovary removal.
The immense funding sources for human trafficking are multi-faceted and varied. Sources of financial backing can include such secondary crimes as money laundering, terrorist activities, theft of art and cultural property, illicit arms trafficking, aircraft hijacking, sea piracy, insurance fraud, computer crime, environmental crime, illicit drug trafficking, fraudulent bankruptcy, infiltration of legal business, and the corruption and bribery of public or party officials.
Most often, the grooming and exploitation of potential victims starts early and at home. For children, the most common abductors are family members, neighbors, and friends. There are even documented cases of newborn infants being trafficked!
The shocking ease with which perverts and deviants can anonymously slither into your children's lives through social media channels only complicates matters. They can be very manipulative and shower young girls (or boys) with compliments and gifts to garner trust and intimate details. Thorn, a group that advocates and empowers the fight against child sex trafficking, states that 88% of victims said their trafficker told them they would take care of them, 83% responded that the trafficker bought them things, and 73% noted that the trafficker told them they loved them.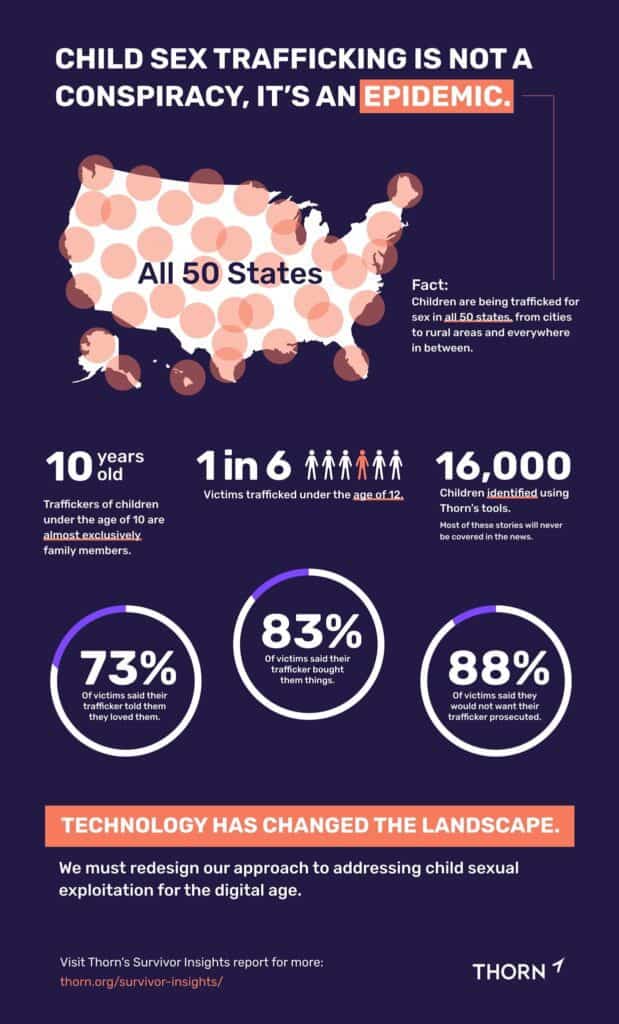 How Does the United States Combat Human Trafficking?
The United States Department of Homeland Security created the Blue Campaign, a national public awareness campaign to fight human trafficking. Their website provides resources for both the public and officials. Their slogan is One Voice. One Mission. End Human Trafficking ®. It drives to educate and empower the public, law enforcement, and other industry partners to recognize possible indicators of human trafficking and to appropriately respond to potential cases. Law enforcement and the public alike can find materials and training to increase detection and identify victims via the Blue Campaign's Awareness Training Program.
Human Trafficking Indicators
There are many possible signs of human trafficking. The list below illustrates some common signals that human trafficking is taking place.
The victim is not in possession of identification and travel documents and is not in control of the documents.
The victim is coached on what to say to law enforcement and immigration officials.
The victim is recruited for one purpose and forced to engage in some other job.
The victim's salary is being garnished to pay off a smuggling fee. Paying off a smuggling fee alone is not considered trafficking.
The victim is forced to perform sexual acts.
The victim does not have freedom of movement.
The victim or family has been threatened with harm if the victim attempts to escape.
The victim has been threatened with deportation or law enforcement action.
The victim has been harmed or deprived of food, water, sleep, medical care, or other life necessities.
The victim cannot freely contact friends or family.
The victim is a juvenile engaged in commercial sex.
The victim is not allowed to socialize or attend religious services.
Human Trafficking vs Smuggling
According to the Department of Homeland Security, the classification of human trafficking and human smuggling are not synonymous.
Human trafficking is defined as:
Sex trafficking in which a commercial sex act is induced by force, fraud, or coercion, or in which the person induced to perform such act has not attained 18 years of age; or
The recruitment, harboring, transportation, provision, or obtaining of a person for labor or services through the use of force, fraud, or coercion for the purpose of subjection to involuntary servitude, peonage, debt bondage, or slavery.
Human Smuggling is defined as:
The importation of people into the United States involving deliberate evasion of immigration laws. This offense includes bringing illegal aliens into the United States as well as the unlawful transportation and harboring of aliens already in the United States.
These are not interchangeable terms
Smuggling is transportation-based
Trafficking is exploitation-based
Human Trafficking Targets
Every year, the United States reports thousands of cases of human trafficking. Many more go unnoticed or unreported. Tribal communities, such as the American Indians and Alaska Natives are hit hard with missing person cases, as their tribal sovereignty status within the states allows their indigenous peoples to go undetected and unprotected in missing person cases. The tribal population occupies approximately 326 Indian land areas in the United States of America.
Trafficking often occurs within under-developed countries to more developed countries where people are rendered susceptible to trafficking through poverty, conflict, or other conditions. We need to act with vigilance for effective prevention. In addition, we must educate and promote personal accountability to bring to light these tragic crimes out of the hidden darkness.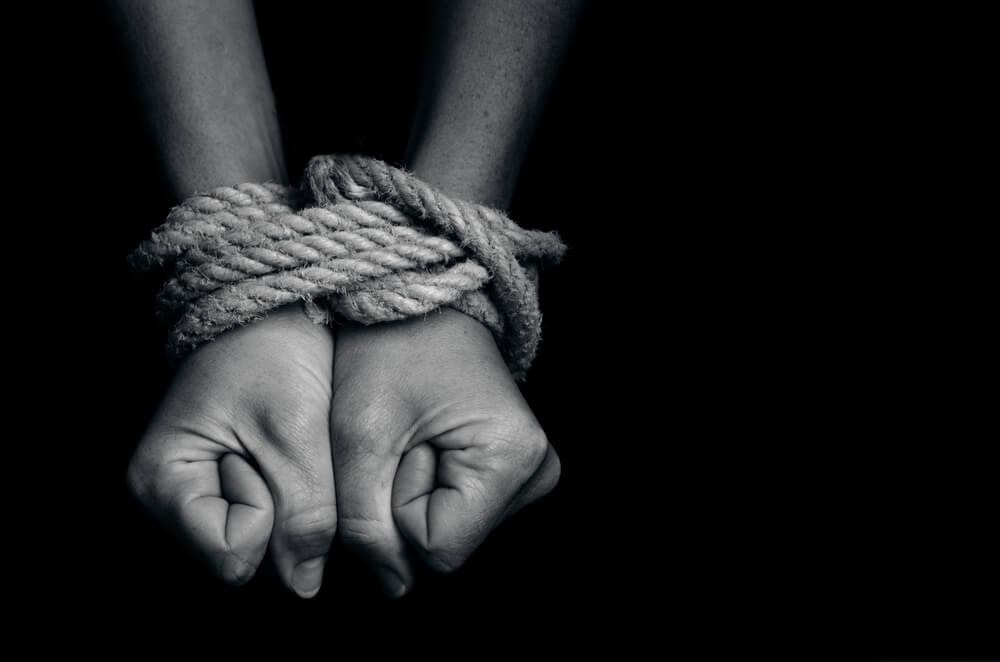 Human trafficking cases are not statistics, a random number, or a nameless face. Victims of human trafficking are living breathing human beings: men, women, and children. Traffickers do not discriminate against their chosen victims. They target those who are unaware of their surroundings. They want the woman to walk alone. They want runaway teenagers. They want the forgotten homeless. They lure the unmonitored and naïve child on the internet. They prey on the vulnerable. They prey on the innocent.
Governmental Policy and Legislative Justice
The World Population Review estimates that 199,000 cases of human trafficking occur each year within the United States of America. The first step in combating human trafficking in the United States was the Trafficking Victim's Protection Act, enacted in the year 2000. This was a crucial moment in the fight against human trafficking. The TVPA paved the way for the United States federal government to respond to human trafficking.
Since then, Congress has built on this foundation, enhancing and intensifying laws within the legislative and judicial branches. According to the non-profit Global Movement for Good website, Do Something, the annual profit margin from human trafficking exceeds $150 billion dollars.
Through the Polaris Project, the U.S. Department of Homeland Security (DHS) investigates the bulk of sex and labor trafficking involving foreign cases. The Federal Bureau of Investigations (FBI) investigates the majority of domestic minor related sex trafficking cases via their Innocence Lost Initiative program. The Justice Department leads federal prosecutions and funds state and local law enforcement agencies to form human trafficking task forces.
There are many federal laws designed to reduce the profit motive for labor trafficking by barring the import of goods made with trafficking labor. FAR 22.1704 provides the United States government's recourse in the event of a violation. FAR 52.222–50 outlines the U.S. government's zero-tolerance policy with regard to trafficking in persons. The Customs and Facilitations and Trade Enforcement Act amended the prohibition on imported goods made with trafficking labor. Finally, the Tariff Act of 1930 prohibits importing goods made with forced or indentured labor.
Businesses profiting more than $500,000 worth of goods or services must have a plan in place to prevent trafficking. Federal Contractors must also certify that, to the best of their knowledge, their supply chain has not engaged in any trafficking-related activities.
Funding
Much like the "war on drugs," governments and law enforcement agencies are fighting an uphill battle. Fighting against hidden and subversive enemies with unending sources of revenue, governments also need adequate funding to even stand a chance. While there has been a recent surge in the attention given to this problem, we are still nowhere near the appropriate amount in dedicated spending to defeat this growing epidemic.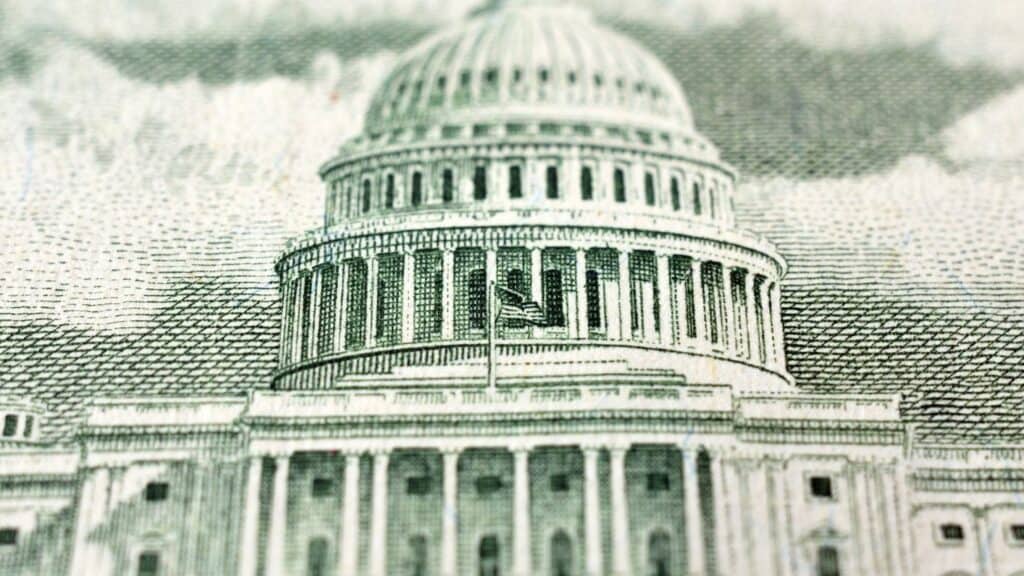 Within the [United States] Office on Trafficking in Persons, the Office of Administration for Children and Families submitted their Congressional Budget Justification Report which included funding for programs, projects, and activities for foreign national victims. It also included funding for programs for domestic victims, in the amount of $26,755,000 for the fiscal year of 2019.
The U.S. Department of Health and Human Services also funds the U.S. National Human Trafficking Hotline. To get help from the National Human Trafficking Hotline, you may call them at (888) 373–7888 or text HELP or INFO to BeFree (233733). They are available 24 hours a day, seven days a week. They are fluent in English, Spanish, and more than 200 other languages. For more information please visit their website.
Besides the obviously sensible protection measures, there are ways you can help
Join the Department of Homeland Security's Blue Campaign to keep informed.
Share material and resources from the Blue Campaign site with others. Be vigilant advocating against human trafficking, as well as promoting education and intolerance.
Contribute to groups like Thorn.
Be an informed consumer. Know who makes the products you buy and the food you eat. Do not buy from companies that use child workers or workers under duress. This can help keep slavery-tainted items out of your home. Please view, download and share the Department of Labor's List of Goods Produced by Child Labor or Forced Labor Pamphlet, and avoid contributing to those companies and human trafficking crime rings.
Recognize and report suspected human trafficking. Contact Federal law enforcement: 1–866-DHS-2-ICE or submit a tip online.
In Conclusion
Human trafficking is a repulsive crime that has remained in the shadows of society. This is due in large part to government officials' deficiency in focusing on this issue. A secondary responsibility is on the absence of national and international media coverage. This has allowed trafficking crimes to grow in number worldwide. To report suspected human trafficking to Federal Law Enforcement in the United States, please call 1 (866) 347–2423.
Human trafficking is a covert act of malevolence. Most misconducts trace to an excessive attachment to material wealth. The Apostle Paul cautions us of this evil within the Holy Bible. 1 Timothy 6:9–10 states:
"But they that will be rich fall into temptation and a snare, and into many foolish and hurtful lusts. Which drown men in destruction and perdition. For the love of money is the root of all evil: which while some coveted after, they have erred from the faith, and pierced themselves through with many sorrows."
It is too late to heed Apostle Paul's warning, but it is not too late to act on humanity's behalf. We need to remain vigilant for the prevention, protection, and recovery of victims. Human trafficking is a global threat, and it requires a global response. Public awareness should be a top priority for us all.

6110
Most Popular Articles
Can Relationships Overcome Infidelity?
Infidelity and cheating are viable threats to any intimate relationship. Predicaments of an affair are a possibility for anyone, especially during this era of technology and virtual anonymity. Betrayals of relationship integrity, whether through infidelity, cheating, or adultery are, unfortunately, more common than one would think. If the couple has children, the fallout can be even more devastating. The following statistics help to illustrate the possibility of adultery occurring in one's relationship:
40% of unmarried couples and 25% of married couples experience at least one incident of infidelity or cheating at some point within the relationship.
70% of all Americans engage in an affair of one type or another at some point in their marital life.
45% of men and 35% of women have been either sexually or emotionally intimate with someone other than their committed partner.
45-50 % of married women and 50-60% of married men engage in extramarital affairs at some point in their relationships.
That Sounds Bad! Is My Relationship Doomed?
No, but it will take some work. It may seem hopeless to repair a relationship that has been damaged by one of the ultimate betrayals. Cheating is the one error in judgment that is considered to be a deal-breaker for most relationships. Trust is a necessity in all aspects of relationships. It stands to reason, therefore, that a violation of trust, such as infidelity and cheating, can cause great heartache and devastation within a marriage. Infidelity can undermine the bedrock and the very foundation of marriage itself. It can devastate, humiliate, and crumble a once-thriving and loving union.
However, with hard work and a resolved commitment to make the relationship succeed, many relationships can (and do) survive a bout of infidelity or cheating. Just because your partner shows signs of cheating does not mean they are being unfaithful. And, even if your partner is cheating, an instance of infidelity doesn't mean that your marriage is doomed. Marriage and family therapist Gabrielle Applebury states "adultery is no longer a deal-breaker in many marriages," and that "70 percent of couples actually stay together after an affair is discovered."
It takes time, patience, and commitment to overcome this obstacle. Relationship advice author Kevin Darné said, "one of the most important things a betrayed person should do is take some time to determine if they really can forgive." When both partners are committed to healing the damage and closing the gap caused by a significant breach of trust, many marriages do survive and, with concentrated effort and work, can actually become stronger and experience deeper levels of intimacy.
The Three Types of Intimacy
There are three specific tools to "affair-proof" your relationship: Self Intimacy, Conflict Intimacy, and Affection Intimacy. These three tools can be thought of as the mortar to the building blocks of any relationship. Every recipe for a long-term relationship has at least some of each of these three ingredients.
Self-Intimacy
To start, self-intimacy is knowing what you feel, think, and want, and sharing these with your partner. It is being self-aware. When we are self-aware, we acknowledge what motivates us so that we can make healthier, more mature choices. We use our Emotional Self Awareness to strengthen Self Intimacy. Emotional intimacy is the foundation of any solid relationship. "Emotional intimacy can be defined as allowing yourself to connect more deeply with your partner through actions that express feelings, vulnerabilities, and trust", says Sanam Hafeez, a neuropsychologist in New York City and faculty member at Colombia University. It is being open and vulnerable and expressing that vulnerability to your partner. This brings couples closer together and enhances overall trust. And overall trust enhances intimacy.
Conflict Intimacy
Secondly, conflict intimacy is the ability to "do conflict well" in a relationship. This is a key tool that many couples lack. Differences and tension are inevitable in all relationships, especially those weathering infidelity, and being able to talk about these with one another is essential. Conflict intimacy is a marker of how well the couple can overcome tensions and difficulties within the relationship. The more effectively a couple can handle stress and tough times, the stronger and closer that couple is. Being able to "argue well" is a good indicator of how strong your relationship is. When couples can talk with respect and calm, they can begin the process of working through the negative, while simultaneously remaining in touch with the positive, loving aspects of their relationships.
Affection Intimacy
And finally, affection intimacy is the "gravy" in the relationship; it is the sweet, sensual, and passionate/sexual aspects of the relationship. It feeds the love that grew early in the courtship. When a couple is good at Self Intimacy and Conflict Intimacy, their Affection Intimacy grows and flourishes. Their relationship is resilient and can handle differences. More importantly, they have a way of constructively dealing with the inevitable challenges that happen in all relationships. In this context, relationships with high levels of affection intimacy are able to discuss issues of personal integrity. Subsequently, they are better prepared to weather risks to relationship integrity. They are able to present fears and vulnerabilities in a way that does not harbor insecurities or view secrets as acceptable.
The Need for "Love" and the Influence of Commitment Phobia
We are all human. We cannot simply turn off our biological urges and ignore our instincts. However, we ARE able to control our behavior and not give in to our darkest desires. Unfortunately, many of us do succumb to this desire, especially during a vulnerable time in our life. It is very important that we maintain healthy communication within our relationships. We must do this with consistency, respect, understanding, and kindness.
Ultimately, human beings are social creatures; we all crave connection and unity with other people. In relationships that do not meet this need, it can be easy for one to stray. For some, it's difficult to live up to the expectations of others. For others, commitment phobia and relationship anxiety are real and trying fears that can influence every relationship in their life. This is particularly true in romantic relations.
Some Common Causes of Commitment Phobia
Some common causes of commitment phobia can include:
Worrying that the relationship will end without notice or signs.
Fear of not being in the "right" relationship.
Concern about being in an unhealthy relationship characterized by abandonment, infidelity, abuse, etc.
Childhood trauma or abuse.
Unmet childhood needs or attachment issues.
Complicated family dynamics while growing up
For these reasons, some relationships are especially challenging to preserve, and cheating can result from some of these unresolved issues. Inevitably, not every relationship can withstand the transgression of an affair. Therefore, the unity and intimacy that once thrived in a healthy relationship can become extinguished and a single act of betrayal can develop into a casualty of the marriage.
What Happens if the Cheater Decides to Leave His or Her Spouse and Marry the Outsider?
Well, statistics are not in their favor. For instance, roughly 3% of men who engage in extramarital affairs marry their mistresses. Men who do marry their paramours have a subsequent divorce rate as high as 75%. In fairness, most second and third marriages fail regardless of why the first one ended. A couple beginning their relationship on the betrayal of a sacred vow may have the odds stacked against them. But a marriage constructed out of unconditional love can overcome many obstacles, including infidelity.
What Are the Next Steps if My Partner Has Cheated?
For couples wishing to repair a marriage upended by infidelity, carefully consider how to proceed. Before choosing to decide whether to stay together or go your separate ways, take the time to heal and understand what was behind the affair. This is not a time to make important family decisions based on emotional responses. A marriage constructed out of unconditional love can overcome many obstacles, but there is also honor in fighting for your vows. In this, honor can heal wounded hearts. The following are significant tools that one may choose to apply in the healing process of their marriage:
First, seek guidance from a licensed psychologist and/or certified counselor who specializes in marriage and family therapy. Within these sessions, remain focused on the marital problems that built up to the affair. Do not stray away from the underlying problems. Find a therapist that encourages both parties to take accountability, this is imperative. Stay within boundaries. This is not the time to bring up any topics that existed prior to the relationship, such as childhood issues or any comparison of your current partner to those of previous relationships. A good marriage counselor will help you put the affair into perspective and help to identify the contributing factors that led to the affair. He or she can further provide both parties with the tools to rebuild and strengthen the relationship.
Second, seek help from outside sources such as spiritual leaders, understanding and non-judgmental friends, and reading material that relates to infidelity. You may also consider utilizing resources on any of the issues that contributed to the affair. For example, self-help books, educational materials focusing on issues regarding control, and/or abusive tendencies within the relationship (if applicable) could be beneficial.
Third, if outside influences played a part in the damage that accrued, such as sexual assault, then other sources of help or information are available. If sexual assault is a factor, then other, more pressing issues of grieving come into play. Educating yourself on the sensitive topic of sexual assault, as well as the effects and aftermath, can help you and your partner overcome this trauma. Take the time to learn how to support your partner in healing from a traumatic situation. The support will certainly enhance the healing process and forge a strong bond to move forward with further reconciliation. "The only effort earned is the effort received. You get what you give, so give it your all." Attitude is everything in life, thus it is important to reflect positive vibes with a mentality of "I'm willing to do everything I can to make this work."
Finally, create a plan to re-establish trust, with the goal being reconciliation. If you were the responsible party and the betrayal is yours, admit your disloyalty to your partner, hold yourself accountable, and seek authentic forgiveness. If it was your partner who committed the infidelity, offer forgiveness when you are truly ready and seek understanding and reconciliation with the helpful tools described above.
Concluding Thoughts
You should never consider an act of retaliation by cheating on your partner in kind. The healing process necessitates that both parties work to regain lost trust and respect. Moving forward will probably get worse before it gets better. It can be done, but only if both parties are committed to healing the relationship, despite all the pain and suffering that both parties are feeling. If you can work together and stick it out, the results can be very rewarding. Subsequently, one can achieve a renewed marriage–a partnership that continuously flourishes and will likely exceed any previous expectations and emerge renewed. Ultimately, to move forward successfully, reconciliation must be the end goal for both partners.
How does your divorce affect your children?
Divorce has an impact on everyone in the family. Not only are the parents directly affected (they are, after all, the ones who are making the decision to split up), but the children suffer the collateral damage. Children have no control over what is happening, they are not responsible, and they feel every bit of the turmoil that is going on around them. They often internalize the hurt and the anger and can hold themselves responsible.
The married couple is responsible for the outcome. Children are the ones who silently internalize what is happening around them and can even blame themselves for what is happening to their parents. And, except in instances of extreme abuse or neglect, a custodial parent should never alienate the child from the other, non-custodial parent.
Children pay attention
Many times, in the heat of the moment during a divorce, parents tend to focus more on the negative issues between them, especially when there has been infidelity. All of the happy times of the life they shared are forgotten. The problems become the focus. They either do not notice what this does to the children or don't pay attention to the potential damage they are causing. Children pick up on everything. They are like sponges and absorb all manner of things in their environment. Therefore, it is very important that we, as adults, also keep in mind that what we do has consequences for our children.
Check out this book
There is a book by Eleanor E. Maccoby and Robert H. Mnookin titled Dividing the Child: Social and Legal Dilemmas of Custody. It is published by Harvard University Press and expertly outlines this phenomenon in detail. If this topic interests you or you are concerned about how your children may be affected by your divorce, please check it out. You can pick up a copy on Amazon.
How we can help
If you or a loved one is facing a domestic dilemma, including litigation, we truly sympathize. Legal and family turmoils, such as child custody and divorce, can be very difficult emotionally and stressful for everyone in the family. When you add children to the mix, things can become extremely daunting and complex. It's no secret that child custody and divorce proceedings are front-and-center to some of the most stressful times of our lives. Red Door Investigations fully supports the 50/50 child custody rule. Children need the love and attention of both parents. Even more so when things in the home are confusing and scary for them.
Unfortunately, with child custody and divorce situations, sometimes there are circumstances beyond our control. There is no other private investigation company that wants to help and support you more in your time of need. We have the means, the tools, and the methods to help during this stressful and emotional time. Leave it to us; our professional private investigators will work to uncover any physical evidence that could help your case. We will use our experience and expertise to help your divorce and/or child custody case reach a successful outcome.
What is Parental Alienation?
Parental alienation, in laymen's terms, is the toxic practice of one parent keeping a child away from the other parent. This usually occurs for malicious intent such as accusations of infidelity and/or remarriages. Professionals consider parental alienation a form of emotional and psychological abuse. The practice of withholding a child from his or her other capable, willing, and fit parent derives from a place of control, which in itself is a form of psychological abuse.
Child custody is an inevitable by-product of many divorces. The judicial system in our country can oftentimes treat child custody as a topic of an understatement. Either that, or it is front-and-center in the proceedings. Either extreme pits the parents against each other and forces them to do battle over their children. If you have experienced divorce with children in tow, you understand the emotional aspect of these issues and how their presence can play a big part in custody "battles."
Society encourages us to "go to battle" for our children. To do whatever it takes to keep our children, even if there is irreversible harm. Are we pre-programming our minds to fight for the best interest of our children? Or is this a message hardwired in our brains by a malicious and controlling society?
Another term often used is "broken family." Using the term "united family" in place of the phrase "broken family" encourages positive thinking not only for the children but the families, as well. This article describes parental alienation in professional terms and outlines the different types of parental alienation.
What Effects Does Parental Alienation Have on the Child?
An alienated child can become hostile to the rejected parent and may express fear or even hatred of them. Even if they had a good relationship before, the child may say he or she can't remember any good times or positive experiences. He or she will resist talking to or seeing the rejected parent and may try to curry favor with the custodial parent by being negative and dismissive toward the other parent.
According to Amy J. L. Baker, Ph.D., a nationally-recognized expert on parental alienation, some children are able to resist the pressure to choose one parent over the other. But when they can't, they become alienated. "They reject the targeted parent without justification. Their relationship with the targeted parent is based on the emotional manipulation of the favored parent rather than on actual experiences with the targeted parent," she explains.
What Is Parental Alienation Syndrome?
The theory of parental alienation syndrome was introduced by psychiatrist Richard Gardner in the 1980s, but there's disagreement about it among experts. The American Psychiatric Association does not recognize it, and it is not listed in the APA's Diagnostic and Statistical Manual of Mental Disorders, though Baker points out that it does meet the APA's definition of a syndrome. Still, she says, there has been confusion as to whom PAS refers to (the parent, the child, or the family), and she prefers to focus on the tactics alienators use and the behavior of the alienated child. "That way, everyone is clear about what we're talking about," she says.
In her article Parental Alienation, Symptoms, and Its Impact, Tracy Guth-Spangler outlines three types of parental alienation: Naïve, Active, and Obsessive Alienators. Each type displays different behaviors and exhibits different reactions to common situations.
Naïve Alienators
The naïve alienator wants the child to have a good relationship with the other parent but will occasionally do or say something hurtful ("Tell your dad it would help if he was on time to pick you up"). Still, decent communication between the parents and their mutual desire to support their kids is apparent. The kids will generally weather the divorce well and will not become alienated from one parent over the other.
Active Alienators
Active alienators also believe their kids should have a good relationship with the other parent, but they have a harder time not letting their own pain and frustration affect their behavior. They lash out at or about the other parent in front of the children and maybe rigid and uncommunicative with their ex. This can cause pain and confusion for children around how they should feel about or act toward the other parent.
Obsessive Alienators
Obsessive alienators actively try to win the child to their side and aim to prevent or destroy any relationship with the other parent. If they feel anger, hatred, or fear toward their former partner, they assume or decide the child must feel the same, and they choose to "protect" their child at all costs. The child may begin to parrot what this parent is doing and saying, and his or her negative feelings toward the rejected parent can become extreme.
Alienation Tactics
Tactics of parental alienation are also addressed. Dr. Baker says research has identified five categories of alienation tactics. These tactics can foster conflict and distance between the child and the targeted parent:
Portraying the targeted parent as unloving, unsafe, and unavailable.
Limiting contact and communication between the child and the targeted parent.
Erasing and replacing the targeted parent in the child's heart and mind.
Encouraging the child to betray the targeted parent's trust.
Undermining the targeted parent's authority.
Ms. Guth-Spangler further explains the understanding of behaviors associated with parental alienation: "Parents should avoid engaging in behaviors that are likely to result in a child falsely believing that the other parent is unsafe, unloving, and unavailable," Baker says.
"Many parents claim they never bad-mouth the other, but bad-mouthing is only one of a number of behaviors that constitute parental alienation. Some claim they want the child to have a good relationship with the other parent and that they are not intentionally sabotaging it, but intentionality is not really relevant — the behaviors a parent engages in and the attitudes they convey are what matters, not their intentions."
Behavior Indicators that a Child is Alienated
According to Baker, children display eight behaviors that can be read as symptoms of alienation. "Any parent concerned that a child is becoming alienated should be on the lookout for even a hint of these behaviors," she says.
Extreme negative views toward the parent, including denying past positive experiences, and lack of investment or interest in improving the relationship.
Frivolous or absurd reasons for hurt and anger with the parent.
Seeing one parent as all good and the other as all bad.
Always siding with the favored parent, no matter what he or she says or does.
A lack of remorse for hurting the rejected parent's feelings.
Claiming to reject the parent with no influence from the favored parent, even though that parent is an obvious influence.
Repeating the favored parent's words without always understanding what they mean.
Becoming cold and hostile toward friends and family of the rejected parent.
Society is negatively affected on many levels, due to the subsequent damage of parental alienation to our future generations. Social, economical, and political matters can all influence parental alienation. The family court rarely recognizes parental alienation syndrome. Judges presiding over child custody cases are not professionally suitable to oversee psychological and emotional abuse. They are not required to obtain a degree in child psychology, merely a law degree. The testimony of experts can sometimes sway a judge's ruling, but ultimately, it is up to the judge in the case, not the experts.
Unscrupulous Judicial and Attorney Tactics
The majority of countries around the world do not have legislation protecting families from parental alienation syndrome. Brazil is one of the few countries that recognize and create legislation to combat parental alienation. Furthermore, in the United States, evidence suggests that judicial misconduct is a rampant issue within the judicial system. Such violations by family court judges against one's constitutional rights are becoming more common. Due process, pursuing witness testimony, neglecting to call present witnesses to the stand, and neglecting to exclude evidence of perjury within witness statements are all fairly common.
Misconduct can also extend to negligent and otherwise incompetent attorney representation. Deliberately not subpoenaing written requested witnesses, refusing requested testimony by the other party, etc. are all very common tactics used by unscrupulous attorneys.
Never Forget What is Best for the Children
The emotional well-being of the child — and his or her relationship with both parents — is paramount. "The most important thing to remember in a co-parenting situation is that you and the child are not the same people," Baker says. "You may be hurt and angry with the other parent, but your child deserves to have a relationship with both parents, regardless of how the parents feel about each other." She adds, "I applaud any parent who asks him or herself, 'What have I done that may be interfering in or undermining the child's relationship with the other parent?' That's the best place to start."
Parental alienation is deeply harmful to innocent children. This unhealthy abusive behavior warrants restructure and reform of family law and psychology. After all, a parent that denies a loving relationship with a fit parent is using a form of "lawful kidnapping" and should be recognized for what it is and abolished within family law.
Children need love, attention, and devotion from both parents, for their wellbeing. In order for them to live their best life filled with ample opportunities and in pursuit of happiness, we must put grudges and vengeance aside. Affected parents and mental health professionals all over the world are using their voices effectively and efficiently to speak for each child that is distanced from his or her alienated parent and aiding corrupt court systems to end the toxic practice of parental alienation.