Identity Theft and the Hijacking of our Personal Information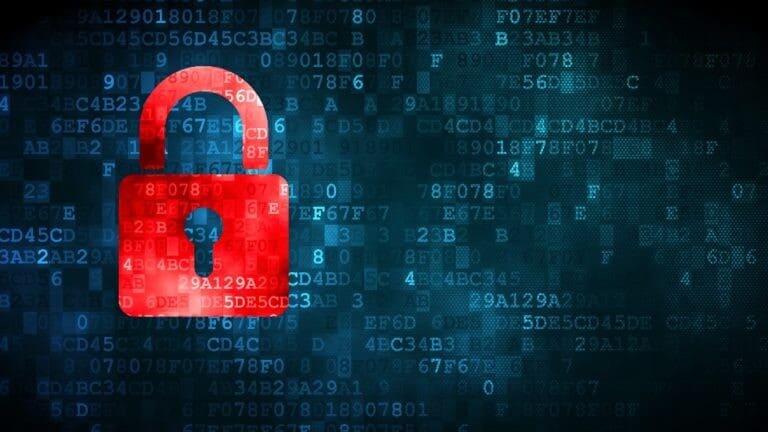 What is Identity Theft?
When a person is born in the United States, he or she is first meaningfully (and sometimes quite uniquely) named by his or her parents or loved ones, and then inevitably numbered by the Social Security Administration. Ultimately, the number provided by our government is for the purpose of identification and tracking. This sophisticated method of tracking offers perpetrators the opportunity to commit acts of fraud by adopting the unique identifier of another and using that number for nefarious purposes. This is just one example of the growing problem(s) of identity theft and identity fraud. And it is one of the most common (and profitable) fraudulent acts perpetrated by criminals today.
Who is at Risk of Identity Fraud?
Identity theft can happen to anyone. Irrespective of race, nationality, gender, religious views, political affiliation, sexual orientation, or socioeconomic status, its victims can include the elderly and the newborn. It is an equal-opportunity hijacking. Even the mentally ill, infirm, and deceased are not safe. Our information is no longer secure; there is no longer such a thing as "privacy."
This era of technology allows the digital pillager easy access to an individual's personal information or a business establishment's data to open fraudulent credit card accounts, apply for personal or business loans, or access financial records, subsequently allowing a thief the perfect silent opportunity to steal funds from their victims' accounts. The damage is oftentimes done and the offender has gone long before the victim even realizes something has been taken.
The Role of Digital Science in the Battle
Digital science is extremely helpful in cybercrime. Digital forensics (also known as computer forensics) is a branch of forensic science. It deals with the investigation and recovery of material found on digital devices, often in relation to computer crimes or attacks. Private investigators who specialize in digital forensics can help apprehend the perpetrator by applying investigatory techniques to track activity using specialized techniques and software.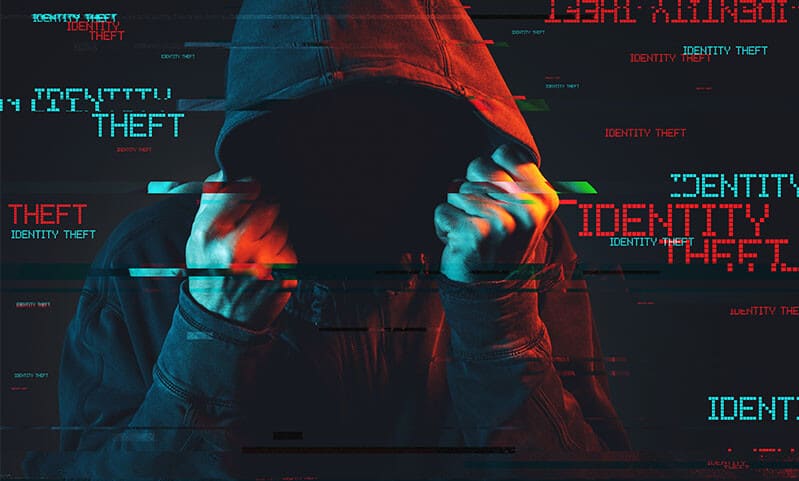 The average person is not privy to many of the programs to which the digital forensic specialist has access; therefore, it is ideal to hire a private investigator who specializes in this field to obtain evidence of fraud. Both civil and criminal matters use digital forensics to help those who have been victimized. Commercial organizations and companies can also use computer forensics to help assist within cases of intellectual property theft, forgeries, employment disputes, bankruptcy investigations, and fraud compliance.
The Consumer Sentinal Network
The Consumer Sentinel Network maintained by the Federal Trade Commission (FTC) tracks consumer fraud and identity theft complaints that have been filed with federal, state, and local law enforcement agencies and private organizations. In 2019, a record 3.2 million fraud and identity theft cases were reported. 1.7 million were fraud-related, approximately 900,000 were other consumer complaints and about 651,000 were identity theft complaints, according to the Insurance Information Institute, referenced in their 2019 Identity Fraud Study.
Warning Signs of Identity Theft
Withdrawals from your bank account that you do not recognize.
Not receiving bills and other mail.
Checks suddenly become refused by merchants.
Receiving calls from debt collectors regarding debts that do not belong to you.
Your credit report shows unfamiliar accounts or charges.
Receiving medical bills for services you did not render.
Your healthcare provider rejects legitimate medical claims. Benefit limits show to be met, whenever they are in fact not.
Medical records show that you have a condition that you do not have, of which your health plan refuses to cover.
Notification by the IRS that you have more than one tax return filed in your name or declares that you work somewhere that you do not work.
Receiving a notice that your information was compromised by a business that you have an account with or a data breach at an establishment where you do business.
What Steps Can I take to Help Protect Myself Against Identity Theft?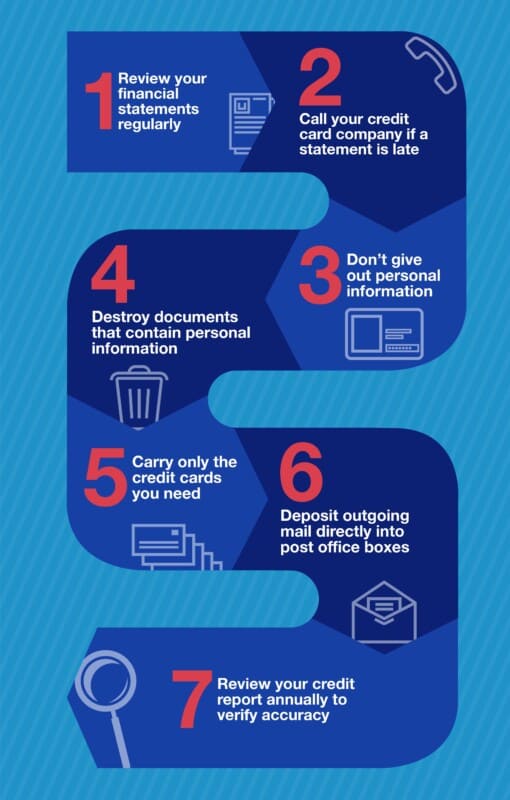 Protect your Social Security card in a secure, fireproof lockbox. Never carry your Social Security card on your person. Verify the company upon request of Social Security number.
Do not share personal information with non-verifiable sources. This includes your full legal name, social security number, birth date, or financial institute account numbers.
Retrieve your mail every day. When you are away from your home or business for an extended amount of time, place a hold on your mail with your local post office.
Reconcile banking and billing statements from your bank and credit card companies. If financial statements are delayed or don't reach you, make sure you contact your bank.
Utilize security features on devices, especially mobile electronics.
While utilizing public wi-fi, use a private network (VPN), temporarily deactivate sharing capabilities, and update firewall settings.
Financial institutions such as credit card companies, banks, or credit union statements need to be monitored. Look for unauthorized transactions on statements. Make sure to compare receipts with financial institution statements.
To prevent "dumpster divers" from accessing personal information shred account/financial statements, credit offers expired credit/bank cards and receipts.
Install protection software such as firewalls and virus-detection and prevention on all electronic devices.
Create complex passwords to prevent thieves from guessing them and change them often. If a company that you conduct business with experiences a data breach, change your password immediately.
Keep your passwords secure and unique. One of the most common sources of information for attackers is the use of a single password for many of your accounts. Apps such as 1Password, Lastpass, and Dashlane can help keep track of your passwords for all of the sites you use in a convenient, self-contained vault. All you have to keep track of is the account password and all. of your site-specific passwords are right there for your convenience. They also have browser extensions that can auto-fill your passwords right into the site so you don't even have to go searching for it within the app.
Review your credit reports either annually or semi-annually. Check for unfamiliar accounts. The Federal Government offers one annual credit report from all three reporting agencies at no cost.
Contact credit bureaus and creditors such as Equifax, Experian, TransUnion, Innovis, National Consumer Telecommunications, and Utilities Exchange to freeze credit files at no cost. Credit freezes prevent thieves from fraudulently applying for and receiving approval for a credit account or utility service in your name.
Where Can I Turn for Identity Theft Help?
The risk of identity theft and fraud exists ubiquitously, especially with regard to digital technology. Still, the same technological advances equally combat this highly personable threat. Therefore, identity theft is both perceptible and largely preventable. One proactive measure is to utilize software services that offer identity theft protection. There are many programs offering identity theft protection to those who wish to increase their security. One popular solution is LifeLock. Another is Identity Guard. Yet another is McAfee (yes, that McAfee, the antivirus guys). For a list of possible solutions, you can also visit Consumers Advocate.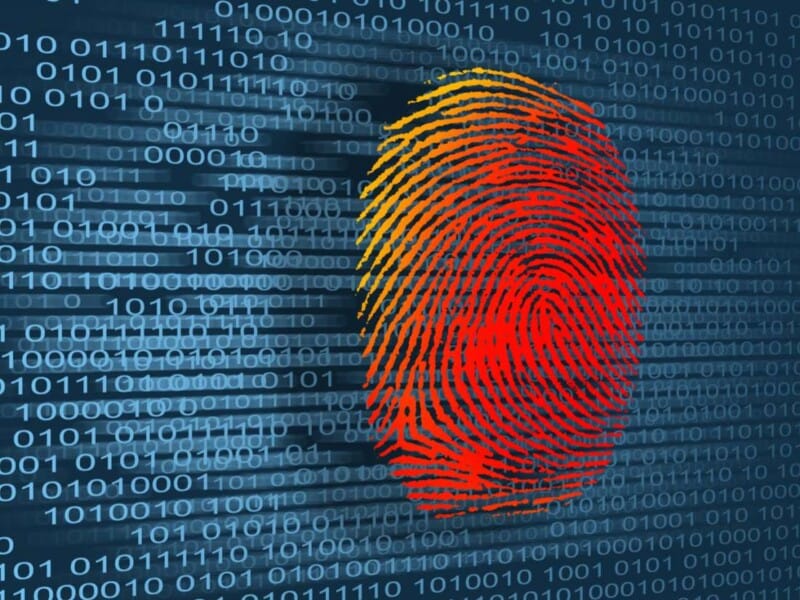 Make sure to perform credit checks frequently. This allows individuals to continuously monitor activity corresponding to one's social security number. If you have been (or think you have been) a victim of identity theft and need to file a report, please visit the Federal Trade Commission and report your claim. You will have the opportunity to create a personalized recovery plan. The recovery plan consists of a step-by-step recovery process that puts your plan into action, updates your plan as needed, tracks your progress, as well as offers prefilled forms and letters for the advancement of your recovery.
Conclusion
To summarize, individuals and businesses alike need to create an attentive internal system that thoroughly prevents and protects personal, consumer, and business information.
If you suspect that you have been targeted for identity theft or fraud, quickly act by checking credit reports for unauthorized or unfamiliar accounts. If one finds evidence to pursue further investigation, freeze your credit and report the incident to appropriate authorities. Another important safeguard is to employ a digital forensic investigator to trace virtual activity. Ultimately this will be in one's best interest in helping to minimize the damage and gain evidence if legal action is available.
It never feels good to experience a violation of any sort. Although identity theft is a concerning threat in today's technological era, taking the steps necessary to protect yourself and your family, as well as your business, employees, and consumers by maintaining a proactive stance can provide one with sound peace of mind.

5081
Most Popular Articles
The Private Investigation Gear We Use
---
We are excited to announce that this article has been published by Pursuit Magazine! Check out the published version.
---
Gear is a very important part of any private investigator's toolbox. The tools of our trade are usually pretty high-tech and oftentimes quite expensive. Private investigators are usually very opinionated on gear and we can talk about it nonstop if you let us (and sometimes even if you don't). We are very vocal in our support of one brand or another and whether this will help us get evidence better or that will allow us to be just a wee bit sneakier. However, ultimately the investigation equipment we choose needs to accomplish three things: it needs to be useful, it needs to be durable, and it needs to be high-quality. If it makes us feel more covert and look super-cool in the process, all the better.
What Investigation Gear Do We Use on the Regular?
This is a list of our favorite indispensable pieces of private investigation gear we use while on surveillance:
And Now for the Stuff We WISH We Had (or could afford):
And that's it! This pretty much sums up the private investigation gear and equipment we use every day and shows a few of the things on our wishlist. If you are in the biz, do you agree or disagree with our suggestions? Leave a comment down below if you use some of the same things we do or if you think what you use is better.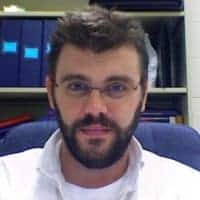 Shaun is the owner of Red Door Investigations. He has a Ph.D. in psychology from the University of Texas at Arlington and is a licensed pilot and certified scuba instructor.
Can Relationships Overcome Infidelity?
Infidelity and cheating are viable threats to any intimate relationship. Predicaments of an affair are a possibility for anyone, especially during this era of technology and virtual anonymity. Betrayals of relationship integrity, whether through infidelity, cheating, or adultery are, unfortunately, more common than one would think. If the couple has children, the fallout can be even more devastating. The following statistics help to illustrate the possibility of adultery occurring in one's relationship:
40% of unmarried couples and 25% of married couples experience at least one incident of infidelity or cheating at some point within the relationship.
70% of all Americans engage in an affair of one type or another at some point in their marital life.
45% of men and 35% of women have been either sexually or emotionally intimate with someone other than their committed partner.
45-50 % of married women and 50-60% of married men engage in extramarital affairs at some point in their relationships.
That Sounds Bad! Is My Relationship Doomed?
No, but it will take some work. It may seem hopeless to repair a relationship that has been damaged by one of the ultimate betrayals. Cheating is the one error in judgment that is considered to be a deal-breaker for most relationships. Trust is a necessity in all aspects of relationships. It stands to reason, therefore, that a violation of trust, such as infidelity and cheating, can cause great heartache and devastation within a marriage. Infidelity can undermine the bedrock and the very foundation of marriage itself. It can devastate, humiliate, and crumble a once-thriving and loving union.
However, with hard work and a resolved commitment to make the relationship succeed, many relationships can (and do) survive a bout of infidelity or cheating. Just because your partner shows signs of cheating does not mean they are being unfaithful. And, even if your partner is cheating, an instance of infidelity doesn't mean that your marriage is doomed. Marriage and family therapist Gabrielle Applebury states "adultery is no longer a deal-breaker in many marriages," and that "70 percent of couples actually stay together after an affair is discovered."
It takes time, patience, and commitment to overcome this obstacle. Relationship advice author Kevin Darné said, "one of the most important things a betrayed person should do is take some time to determine if they really can forgive." When both partners are committed to healing the damage and closing the gap caused by a significant breach of trust, many marriages do survive and, with concentrated effort and work, can actually become stronger and experience deeper levels of intimacy.
The Three Types of Intimacy
There are three specific tools to "affair-proof" your relationship: Self Intimacy, Conflict Intimacy, and Affection Intimacy. These three tools can be thought of as the mortar to the building blocks of any relationship. Every recipe for a long-term relationship has at least some of each of these three ingredients.
Self-Intimacy
To start, self-intimacy is knowing what you feel, think, and want, and sharing these with your partner. It is being self-aware. When we are self-aware, we acknowledge what motivates us so that we can make healthier, more mature choices. We use our Emotional Self Awareness to strengthen Self Intimacy. Emotional intimacy is the foundation of any solid relationship. "Emotional intimacy can be defined as allowing yourself to connect more deeply with your partner through actions that express feelings, vulnerabilities, and trust", says Sanam Hafeez, a neuropsychologist in New York City and faculty member at Colombia University. It is being open and vulnerable and expressing that vulnerability to your partner. This brings couples closer together and enhances overall trust. And overall trust enhances intimacy.
Conflict Intimacy
Secondly, conflict intimacy is the ability to "do conflict well" in a relationship. This is a key tool that many couples lack. Differences and tension are inevitable in all relationships, especially those weathering infidelity, and being able to talk about these with one another is essential. Conflict intimacy is a marker of how well the couple can overcome tensions and difficulties within the relationship. The more effectively a couple can handle stress and tough times, the stronger and closer that couple is. Being able to "argue well" is a good indicator of how strong your relationship is. When couples can talk with respect and calm, they can begin the process of working through the negative, while simultaneously remaining in touch with the positive, loving aspects of their relationships.
Affection Intimacy
And finally, affection intimacy is the "gravy" in the relationship; it is the sweet, sensual, and passionate/sexual aspects of the relationship. It feeds the love that grew early in the courtship. When a couple is good at Self Intimacy and Conflict Intimacy, their Affection Intimacy grows and flourishes. Their relationship is resilient and can handle differences. More importantly, they have a way of constructively dealing with the inevitable challenges that happen in all relationships. In this context, relationships with high levels of affection intimacy are able to discuss issues of personal integrity. Subsequently, they are better prepared to weather risks to relationship integrity. They are able to present fears and vulnerabilities in a way that does not harbor insecurities or view secrets as acceptable.
The Need for "Love" and the Influence of Commitment Phobia
We are all human. We cannot simply turn off our biological urges and ignore our instincts. However, we ARE able to control our behavior and not give in to our darkest desires. Unfortunately, many of us do succumb to this desire, especially during a vulnerable time in our life. It is very important that we maintain healthy communication within our relationships. We must do this with consistency, respect, understanding, and kindness.
Ultimately, human beings are social creatures; we all crave connection and unity with other people. In relationships that do not meet this need, it can be easy for one to stray. For some, it's difficult to live up to the expectations of others. For others, commitment phobia and relationship anxiety are real and trying fears that can influence every relationship in their life. This is particularly true in romantic relations.
Some Common Causes of Commitment Phobia
Some common causes of commitment phobia can include:
Worrying that the relationship will end without notice or signs.
Fear of not being in the "right" relationship.
Concern about being in an unhealthy relationship characterized by abandonment, infidelity, abuse, etc.
Childhood trauma or abuse.
Unmet childhood needs or attachment issues.
Complicated family dynamics while growing up
For these reasons, some relationships are especially challenging to preserve, and cheating can result from some of these unresolved issues. Inevitably, not every relationship can withstand the transgression of an affair. Therefore, the unity and intimacy that once thrived in a healthy relationship can become extinguished and a single act of betrayal can develop into a casualty of the marriage.
What Happens if the Cheater Decides to Leave His or Her Spouse and Marry the Outsider?
Well, statistics are not in their favor. For instance, roughly 3% of men who engage in extramarital affairs marry their mistresses. Men who do marry their paramours have a subsequent divorce rate as high as 75%. In fairness, most second and third marriages fail regardless of why the first one ended. A couple beginning their relationship on the betrayal of a sacred vow may have the odds stacked against them. But a marriage constructed out of unconditional love can overcome many obstacles, including infidelity.
What Are the Next Steps if My Partner Has Cheated?
For couples wishing to repair a marriage upended by infidelity, carefully consider how to proceed. Before choosing to decide whether to stay together or go your separate ways, take the time to heal and understand what was behind the affair. This is not a time to make important family decisions based on emotional responses. A marriage constructed out of unconditional love can overcome many obstacles, but there is also honor in fighting for your vows. In this, honor can heal wounded hearts. The following are significant tools that one may choose to apply in the healing process of their marriage:
First, seek guidance from a licensed psychologist and/or certified counselor who specializes in marriage and family therapy. Within these sessions, remain focused on the marital problems that built up to the affair. Do not stray away from the underlying problems. Find a therapist that encourages both parties to take accountability, this is imperative. Stay within boundaries. This is not the time to bring up any topics that existed prior to the relationship, such as childhood issues or any comparison of your current partner to those of previous relationships. A good marriage counselor will help you put the affair into perspective and help to identify the contributing factors that led to the affair. He or she can further provide both parties with the tools to rebuild and strengthen the relationship.
Second, seek help from outside sources such as spiritual leaders, understanding and non-judgmental friends, and reading material that relates to infidelity. You may also consider utilizing resources on any of the issues that contributed to the affair. For example, self-help books, educational materials focusing on issues regarding control, and/or abusive tendencies within the relationship (if applicable) could be beneficial.
Third, if outside influences played a part in the damage that accrued, such as sexual assault, then other sources of help or information are available. If sexual assault is a factor, then other, more pressing issues of grieving come into play. Educating yourself on the sensitive topic of sexual assault, as well as the effects and aftermath, can help you and your partner overcome this trauma. Take the time to learn how to support your partner in healing from a traumatic situation. The support will certainly enhance the healing process and forge a strong bond to move forward with further reconciliation. "The only effort earned is the effort received. You get what you give, so give it your all." Attitude is everything in life, thus it is important to reflect positive vibes with a mentality of "I'm willing to do everything I can to make this work."
Finally, create a plan to re-establish trust, with the goal being reconciliation. If you were the responsible party and the betrayal is yours, admit your disloyalty to your partner, hold yourself accountable, and seek authentic forgiveness. If it was your partner who committed the infidelity, offer forgiveness when you are truly ready and seek understanding and reconciliation with the helpful tools described above.
Concluding Thoughts
You should never consider an act of retaliation by cheating on your partner in kind. The healing process necessitates that both parties work to regain lost trust and respect. Moving forward will probably get worse before it gets better. It can be done, but only if both parties are committed to healing the relationship, despite all the pain and suffering that both parties are feeling. If you can work together and stick it out, the results can be very rewarding. Subsequently, one can achieve a renewed marriage–a partnership that continuously flourishes and will likely exceed any previous expectations and emerge renewed. Ultimately, to move forward successfully, reconciliation must be the end goal for both partners.
How does your divorce affect your children?
Divorce has an impact on everyone in the family. Not only are the parents directly affected (they are, after all, the ones who are making the decision to split up), but the children suffer the collateral damage. Children have no control over what is happening, they are not responsible, and they feel every bit of the turmoil that is going on around them. They often internalize the hurt and the anger and can hold themselves responsible.
The married couple is responsible for the outcome. Children are the ones who silently internalize what is happening around them and can even blame themselves for what is happening to their parents. And, except in instances of extreme abuse or neglect, a custodial parent should never alienate the child from the other, non-custodial parent.
Children pay attention
Many times, in the heat of the moment during a divorce, parents tend to focus more on the negative issues between them, especially when there has been infidelity. All of the happy times of the life they shared are forgotten. The problems become the focus. They either do not notice what this does to the children or don't pay attention to the potential damage they are causing. Children pick up on everything. They are like sponges and absorb all manner of things in their environment. Therefore, it is very important that we, as adults, also keep in mind that what we do has consequences for our children.
Check out this book
There is a book by Eleanor E. Maccoby and Robert H. Mnookin titled Dividing the Child: Social and Legal Dilemmas of Custody. It is published by Harvard University Press and expertly outlines this phenomenon in detail. If this topic interests you or you are concerned about how your children may be affected by your divorce, please check it out. You can pick up a copy on Amazon.
How we can help
If you or a loved one is facing a domestic dilemma, including litigation, we truly sympathize. Legal and family turmoils, such as child custody and divorce, can be very difficult emotionally and stressful for everyone in the family. When you add children to the mix, things can become extremely daunting and complex. It's no secret that child custody and divorce proceedings are front-and-center to some of the most stressful times of our lives. Red Door Investigations fully supports the 50/50 child custody rule. Children need the love and attention of both parents. Even more so when things in the home are confusing and scary for them.
Unfortunately, with child custody and divorce situations, sometimes there are circumstances beyond our control. There is no other private investigation company that wants to help and support you more in your time of need. We have the means, the tools, and the methods to help during this stressful and emotional time. Leave it to us; our professional private investigators will work to uncover any physical evidence that could help your case. We will use our experience and expertise to help your divorce and/or child custody case reach a successful outcome.